Happy Sunday, everyone!
Jessica, our July Guest Designer is back for one last share for you all.
Jessica it has been a real pleasure having you Guest Design for us.
Hey there crafty friends! Is everybody having an awesome summer? I've been keeping busy with the kiddos, hanging out at the lake and doing all the other fun summer activities. I have to say one of the best things about summertime is the beach, especially watching the little ones play with so much excitement in the water. The card I'm sharing today showcases that summertime activity so perfectly.
The stamp used to create this sweet beach card is a Victorine Original called "
Wading In The Water
" The great thing is that
SumMore Fun
sells these wonderful red rubber stamps unmounted which makes the prices extremely reasonable. But, how do you use mounted stamps?.... You ask... What I did was trim all the extra rubber off the sides and then applied some Tombow Mono Multi Liquid Glue to the back and let it dry. Once dried the tombow mono adhesive remains tacky. If it's a little too sticky for your liking, just stick it to your shirt or your pants a couple times and it will remove some of the tackiness. Now you're stamp is ready to go, it will stick to your stamping tool and your acrylic blocks for continuous use. I've also been told you can use Aleene's Tack-It Over & Over glue for the same thing. I used my Misti stamping tool and stamped the beach girl scenery stamp on Canson XL watercolor paper with Versafine Onyx Black Ink. After my ink was dry I use Derwent water brushes and Peerless watercolor to paint my stamp image, creating a beautiful scenery panel for my card. I love adding yellow to my cards when I can, I think it adds the perfect pop of color to just about anything. For today's card I did this by matting some yellow patterned paper from my stash behind my watercolored image.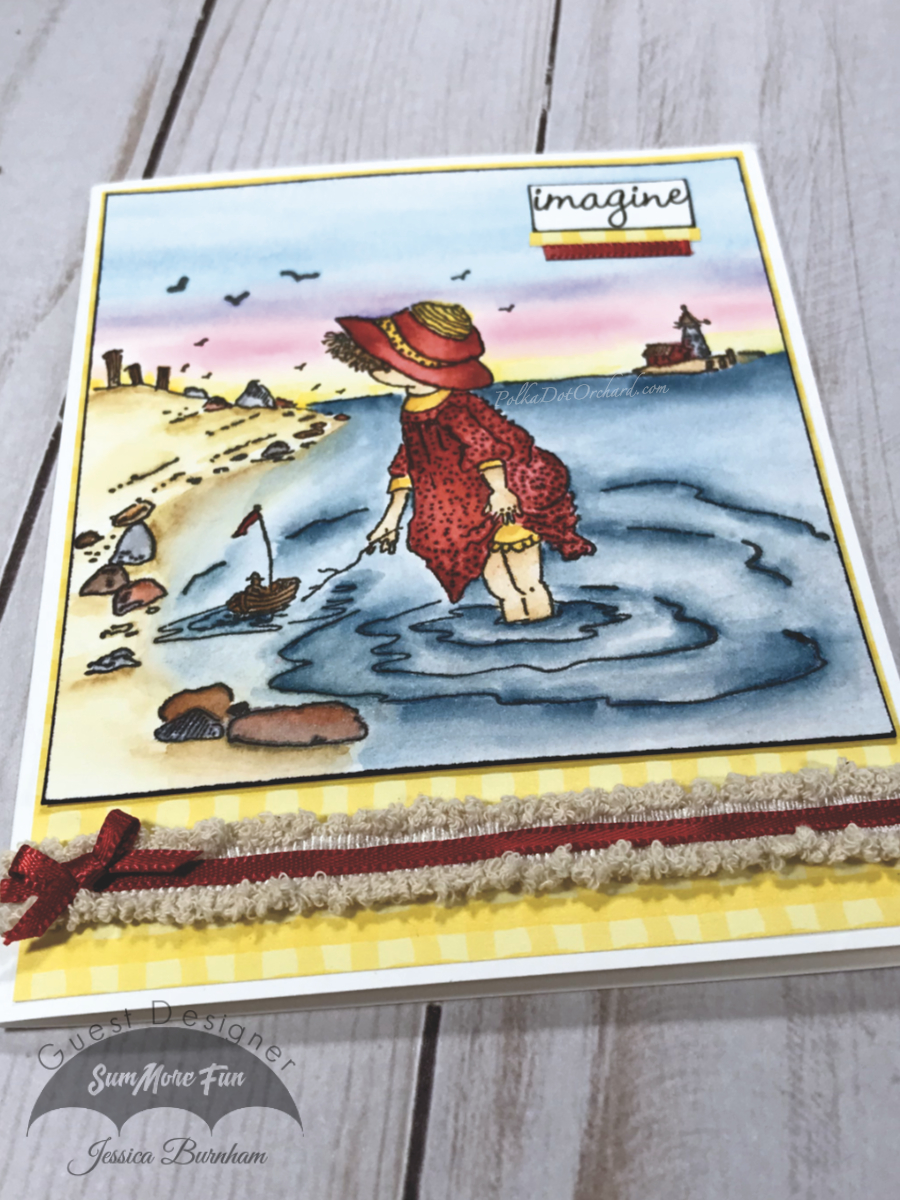 To finish off the front of the card I added some frilly tan ribbon which created some nice dimension. Also, to add just a bit more pop of color I attached some thin red satin ribbon in the middle of my frilly ribbon, finishing that off with a itty bitty bow. By the way, I love making itty bitty bows. Oh wait, the word on the front. "Imagine" what a perfect word to go with an image of an innocent child playing in the water at the beach, I thought. This word was done with a stamp from the Risin Boat stamp set called "
Imagine
" To get just the word from the stamp I masked off with some washi tape the surrounding stamp around the word. I then ink it up with Versafine Onyx Black Ink, removed the washi tape, and then stamped it on to my card stock. I fussy cut around the word and then attach it to my card front. I added a small strip of the yellow pattern paper and a piece of the red ribbon underneath that word to just make it a little bit more pretty.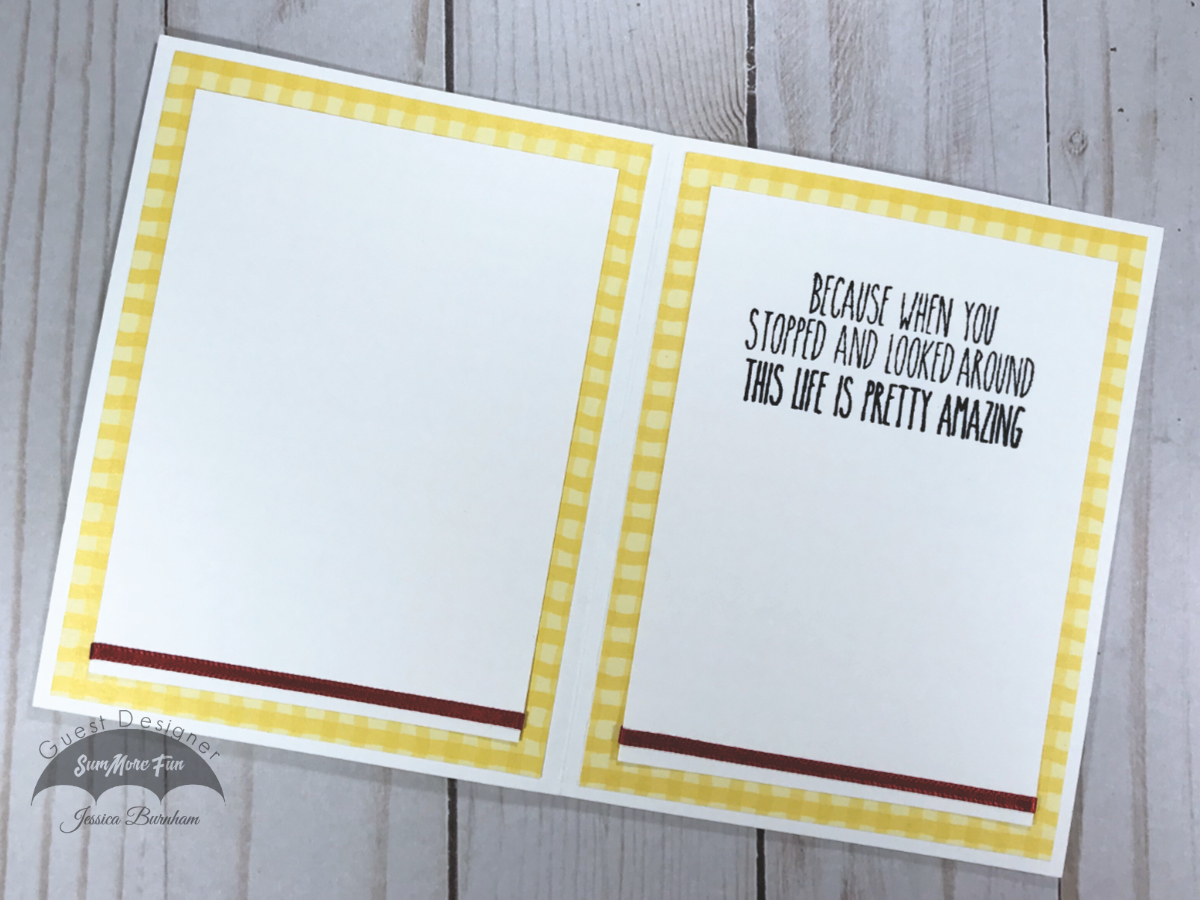 If you know me, I can almost never leave the inside of my cards blank. If I can, I like to make the insides match the front of the card. I feel this extra little bit of effort makes the card even more special for the person who receives it. For the inside of this card I decided to matte both sides with the yellow pattern paper and then matted some white cardstock on top of that and then finishing it off by adding a strip of the red satin ribbon to both sides. A little trick to adding small strips of ribbon to your cards is to first run it through an Xyron sticker maker. I like using the repositionable adhesive so I can adjust my ribbon if needed. Also, how perfect is that sentiment "BECAUSE WHEN YOU STOPPED AND LOOKED AROUND THIS LIFE IS PRETTY AMAZING"? Please comment below letting me know what your favorite summertime activity is.
Thanks for stopping by.
Happy Crafting!